An Insight into the Bio Medical Waste Management Status of Alwar using Indicators and Sub-Indicators
Keywords:
health, sustainable development, bio medical waste, bio medical waste management
Abstract
The United Nations in 2015 adopted seventeen sustainable development goals among which good health and wellbeing for all is one of them to be achieved by 2030. Thus, continuous improvements in the health sector have become the primary focus of governments around the globe. The irony is that the medical sector which are our main agencies of health have become a major source of infectious pollutants due to the byproducts released from them after the utilization of these services. The waste generated from health care facilities is called bio medical waste in India; though it has various terminologies which are used widely in different countries across the globe making it all the more complicated to be handled. Already bio medical waste has been regarded as the second most hazardous waste after radioactive waste thus making it essential to be regularized by rules and regulations. Such rules are found to exist all around the world. But the poor management of bio medical waste in developing countries raises some pertinent questions regarding the enforcement of these rules. We through our article are presenting the important parameters that can be a boon for the sustainable management of bio medical waste. These parameters are called indicators or sub indicators and are six in number and indicate how efficiently a health care facility is managing its bio medical waste.
Downloads
Download data is not yet available.
References
A. K. Pandey and T. Srivastava, "Mathematical Modelling: Growing Role and Applications," J. Appl. Sci. Educ., vol.1, no.1, pp.1–11, 2021.
A. B. dour, B. Altrabsheh, N. Hadadin, et al., "Assessment of medical wastes management practice: A case study of the northern part of Jordan", Waste Management, vol.27, pp.746–759, 2007.
B. Paria, S. K. Roy, A. Ganguly, "A study of biomedical waste management in a tertiary care hospital, Kolkata," IJSR, vol.6, no.1, pp.237-240, 2017.
G. Baveja, S. Muralidhar, P. Aggarwal," Medical waste management – an overview," Hospital Today, vol.5, no.9, pp. 485-486, 2017.
M. Caniato, T. Tudor and M. Vaccari, "International governance structures for health-care waste management: A systematic review of scientific literature," Journal of Environmental Management, vol.153, pp. 93–107, 2015.
M. Chaerul, M. Tanaka and A.V. Shekdar,''A system dynamics approach for hospital waste management," Waste Management, vol. 28, no.2, pp.442–449, 2008.
A. Singh & A. Chauhan," A Healthcare Waste Management: A state of the art literature review," Int J Environ Waste Manag, vol.18, no.2, pp.120-144, 2011.
L.F. Diaz, L.L Eggerth, S. Enkhtsetseg, et al., "Characteristics of healthcare wastes," Waste Management, vol. 28, no.7, pp.1219–1226, 2008.
S. Gupta and R. Boojh, "Report: Biomedical waste management practices at Balrampur Hospital Lucknow, India." Waste Management & Research, vol.24, no.6, pp.584–591, 2006.
Manar, M.K Sahu, K.K and Singh, S.K.," Hospital waste management in nonteaching hospitals of lucknow city, India", Journal of Family Medicine and Primary Care, vol. 3, pp. 393–395,2018.
Notification: Bio-medical Waste (Management and Handling) Rules, Ministry of Environment and Forests, GOI (E), part 3 New Delhi, 1998.
E. Oruonye & A. Ahmed," Covid-19 and challenges of management of infectious medical waste in Nigeria: A case of Taraba State," International Journal of Waste Resources, vol. 10, pp.1–5, 2020.
D.K. Singh, & A. K. Singh," An overview of the new legal regime of bio medical waste management in India," Asian Journal of Multidimensional Research (AJMR), vol.7, pp.32-45, 2008.
M. Tsakona, E. Anagnostopoulou, E. Gidarakos," Bio medical waste management and toxicity evaluation: a case study," Waste Management, vol. 27, pp.912-920, 2007.
T. L. Tudor, C. L. Noonan and L. E. Jenkin," Healthcare waste management: A case study from the National Health Service in Cornwall, United Kingdom," Waste Management, vol. 25, pp. 606–615, 2005.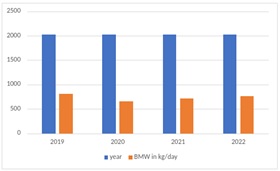 Downloads
How to Cite
[1]
Deepa Bhambhani, "An Insight into the Bio Medical Waste Management Status of Alwar using Indicators and Sub-Indicators", J. Appl. Sci. Educ., vol. 3, no. 1, pp. 1–7, Apr. 2023.
CITATION COUNT
License
Copyright (c) 2023 Deepa Bhambhani
This work is licensed under a Creative Commons Attribution 4.0 International License.